[4:08 PM] Jordan Coppedge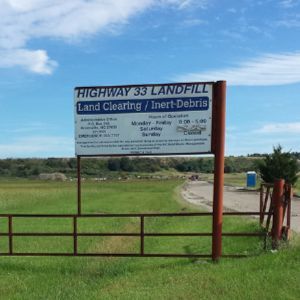 landfill
Highway 33 Landfill
We proudly operate an environmentally-conscious, private landfill on North Carolina Highway 33. We have a solid waste permit and we accept most types of decomposable land clearing and inert construction debris.
Landfill Hours
Monday - Friday: 8:00 - 5:00 (Weather permitting)
Directions to Landfill
This facility is located at 3034 NC 33 West, Greenville, NC 27834. Approximately four miles northwest of Greenville in Belvoir.
Solid Waste Permit #74-D
Vehicle

Gov't/Inst. Clearing

Clearing

Concrete

w/ Rebar -----Clean

Inert Debris

Pickup

$15.00

$25.00

$30.00--------$20.00

$20.00

Single Axe

$30.00

$35.00

$80.00---------$40.00

$40.00

Tandem

$40.00

$45.00

$130.00-------$55.00

$60.00

Tri-Axle (Dump Truck)

$50.00

$60.00

$160.00-------$55.00

$80.00

Tractor/Trailer

$60.00

$75.00

$180.00 -------$55.00

$110.00

Clean Sand/Soil/Dirt

$20 per load (any size)

Clean Concrete/Asphalt

up to $55 per load (See above)
Landfill Map